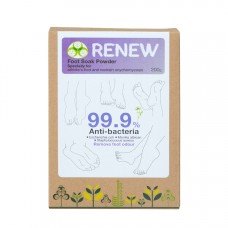 RENEW Foot Soak Powder (200g)
Model: RB020010
Hong Kong
Product Description
RENEW Foot Soak Powder (200g)
Reduce fatigue with anti-bacterial and odour removal features. Prevent athlete's foot.
Usage
Foot massage, hydrotherapy and balenotherapy.
Ingredients
Sea salt, citric acid, natural minerals, herbal extracts, etc.

Special Features
Remove odor and relieve sweat.
Relieve fatigue and relaxing soul by improving blood circulation and metabolism.
Moisture skin and reduce itching. Soften dry and flaky skin on feet to bring a delicate,
newborn appearance.

Treat nail fungus effectively. Prevent athlete's foot and bacterial infection on skin.
How To Use
Dissolve the powder in a warm bath, with scale of 1000ml water with 1-2g powder.. Soak for 5-20 minutes. Remarkable effect for athlete's foot if have foot bath continuously for 3-5 days.