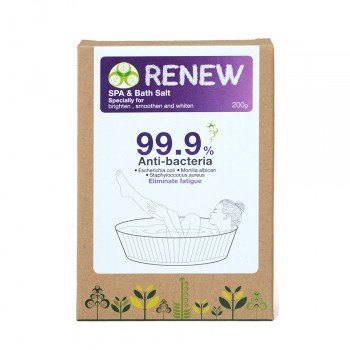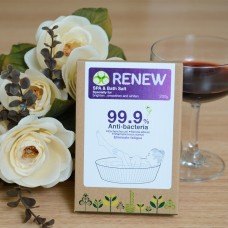 RENEW SPA Bath Salt (200g)
Model: RB020012
Hong Kong
Product Description
RENEW SPA & Bath Salt (200g)
Specially prepared for people with superior quality of life.
Usage
Bath, dead skin removal, SPA, etc.
Ingredients
Israeli dead sea salt, natural minerals, tea polyphenols, citric acid, etc.
Special Features
Rich in micronutrients such as iron, calcium, selenium, magnesium. Improve blood
circulation and metabolism.
Gently exfoliate dull and dead skin cells. Lighten dark spot. Resist radiation. Delay skin aging. Improve skin elasticity and reveal newborn skin.
Benefit for toxic material removal of human body. Reduce fatigue. Healing body and
soul.

Helps remove excess surface oil from the body. Gives effect of sliming body.
How To Use
Dissolve the SPA salt into water in the scale of 100L water with 20g salt.
Soak for 5-20 minutes. You can adjust the dosage and bath time as you wish.