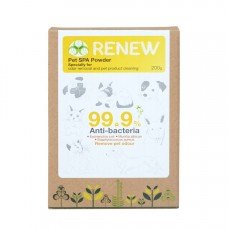 RENEW Pet SPA Powder (200g)
Model: RB020012
Hong Kong
Product Description
RENEW Pet SPA Powder (200g)
Especially for pets.
Suitable for cleaning all types of coat,
also pet utensils, toys and accessories.
Usage
Odour removal for skin and coat of pet. Also Suitable for pet supplies cleaning, such as pet beds, carriers, bowls, feeders and toys, etc.
Ingredients
Citric acid, sea salt, edible puffing powder, coconut alcohols, active oxygen, etc.
Special Features
Made of natural ingredients, contains no fragrance and irritating additives.

Anti-bacterial. Gently remove dirt and odor from excretion, sweat and secretion of
reproductive system without irritating pets' skin.

Prevent and control skin problems such as fungal infection, pyoderma, molting and
eczema. Remove dust mites, ticks and fleas. Inhibit parasitic infections.

Care skin and coat. A long-lasting shinny, soften coat or hair formed after use.
How To Use
Dissolve the pet SPA powder in scale of 500ml water with 5g powder and stir, apply to
pet hair evenly. Massage your pet for 5-10 minutes until foam comes out. Thoroughly
wash away the foam with clear water thoroughly.