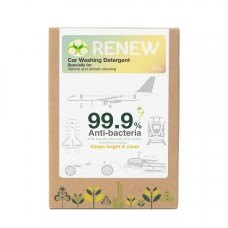 RENEW Car Washing Detergent (200g)
Model: RB020016
Hong Kong
Product Description
RENEW Car Washing Detergent (200g)
Specially for cleaning vehicles and aircrafts. Suitable for all kinds of coating.
Usage
All types of coating on vehicle and aircraft including spacecraft, plane, cruise ship, yacht, train, tramcar, automobile, etc. Exterior and interior are both applicable.
Ingredients
Tea extract, citric acid, baking soda, edible puffing powder, sea salt, etc.

Special Features
Washes and adds lustre in one step.
Natural formula makes it tough on stains but gentle to your car. Wipe away tough dirt, road grime and contaminants without scratching or rusting the paint.
Also suitable for car interior cleaning to remove odor, formaldehyde and bacteria.
Foamless, easier to rinse and leaves no residue.
How To Use
Fill a bucket with water and add car washing detergent in the quantity directed on its package. Vary amount depending on the extent of stains.
Soak the towel or sponge in the solution, and then apply it to the surface of exterior or interior.